Stories from the life of Sheila Cox
Sheila Faughnan 6/4/1930 - 12/14/2014
Sheila (née Cox) passed away peacefully on 12/14/2014. She is survived by her husband Frank and her children John, Steven, and Claire and grandchildren Lauren, Timothy, Benjamin and Brinna. She was predeceased by her son Brian.
A funeral service will be held at St. John Fisher on Monday December 22 at 11am. For more about the life and times of Nurse Sheila, visit www.sheila.faughnan.com.
Things most people don't know about my mother (by John Faughnan)
Her parents would have she and her sisters entertain house guests. The living room would be setup with a curtain and the girls would do joint and individual performances. Sheila's act often involved tap dancing.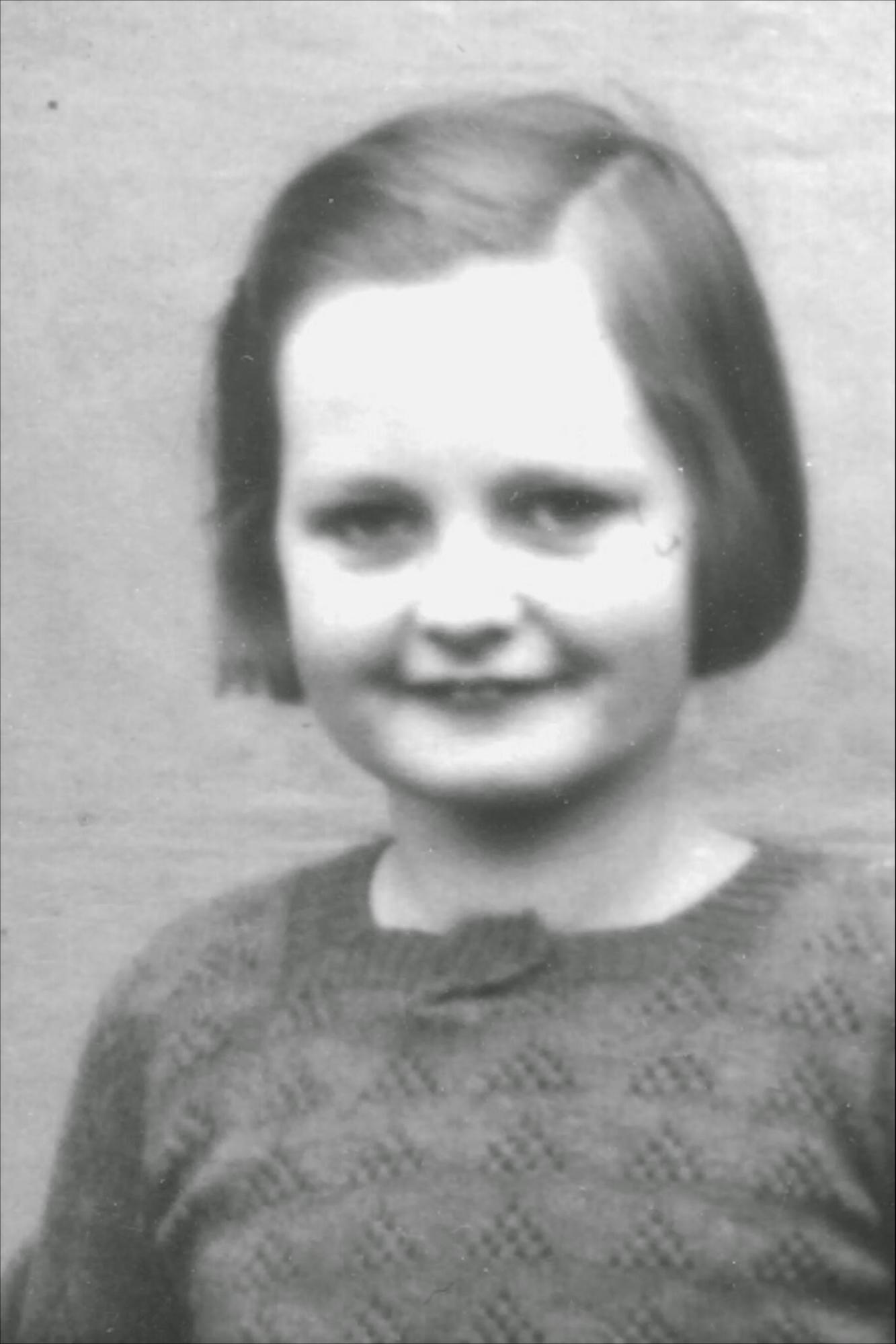 One of her childhood heroes was a channel swimmer.
She had fond memories of watching fireworks and of family camping outings. The fireworks were courtesy of the Blitz, and the camping was in the family bomb shelter. She collected stained glass pieces from bombed churches.
She enjoyed an adventurous outing to the countryside with her sisters -- when the children of Manchester were relocated to the homes of strangers to avoid the Blitz. She and her sister were among the last chosen by a couple my mother remembered fondly.
She played tennis against her sister Pauline, who represented Lancashire and Manchester in regional tennis competitions.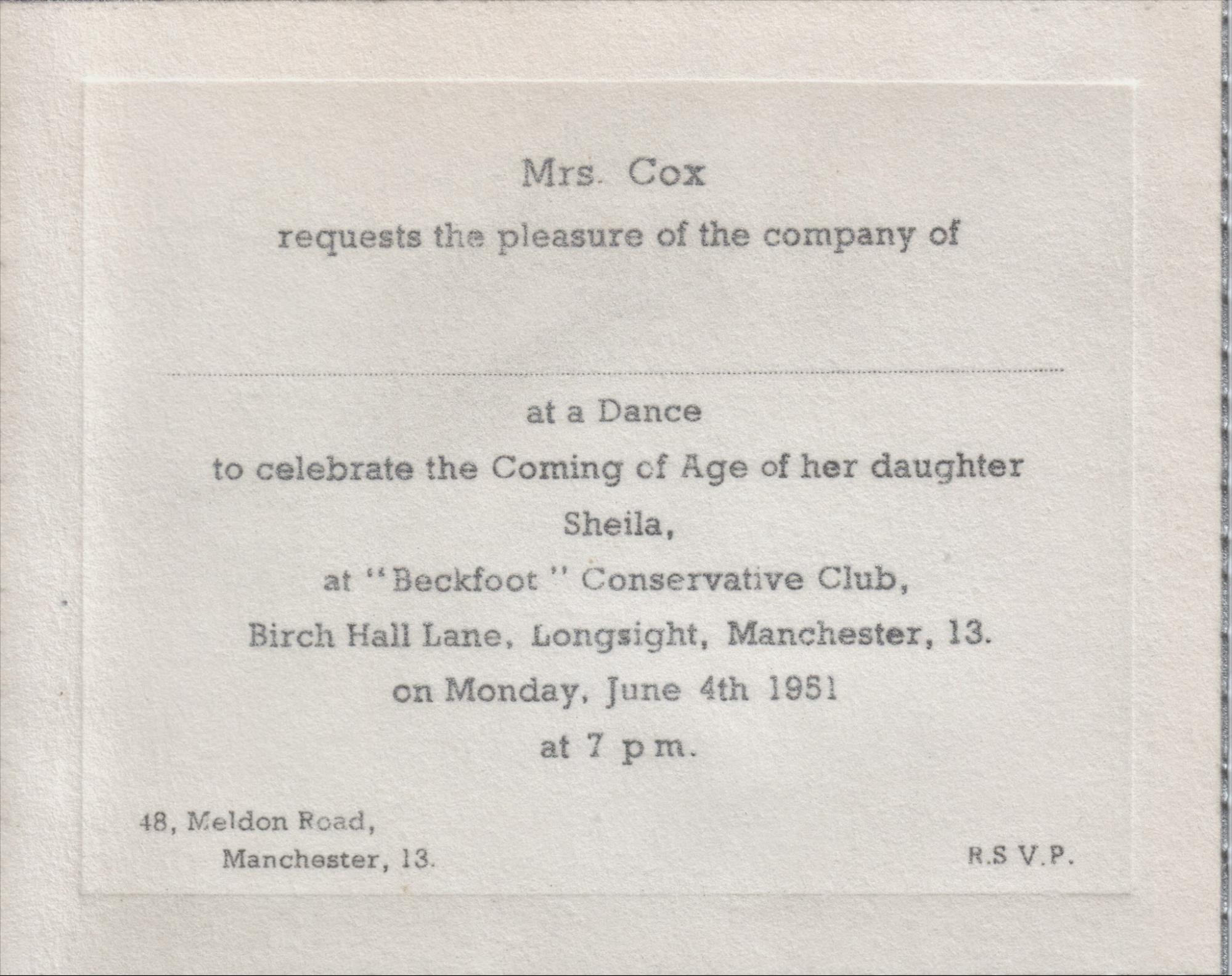 She wanted to be a surgeon, but that option wasn't available for her in 1950s Manchester.
She became a nurse and midwife. She lived much of "Call the Midwife", albeit with less drama. Her midwifery bike had no brakes, so downhills were exciting.
More than one of her relatives owned a pub. She didn't talk about this much.
During and after nursing school she was mad for ballroom dancing. She worked until 7, changed heels, danced to midnight, slept a few hours and started over again. She taught ballroom dancing.
She left England after her sister married and her parents deceased. She planned to see the world while nursing, starting with Canada and Australia. She bought a special hat for her arrival and wore it as the boat came in. She also bought an expensive fur coat, which she expected she'd need year round.
When she met my father he thought she was sad and needed cheering up. As they danced she explained she was actually mad at a friend who'd tried to set her up.
My father was an avid downhill skier in the skin up the hill days; when they were courting she gave skiing a try. It didn't stick.
She was physically strong -- something that impressed my father. She liked moving furniture. I seem to remember her arm wrestling with Dad.
She knew every Canadian had to skate, so she dutifully took her two year old son out the rink.
She had no idea how to dress Canadian children. I still remember wearing boys pants without a fly. (#2 son avoided most of this.)
She taught her children how to do the therapeutic back massages she was taught in nursing school. I remember practicing on her. It was a useful skill later in my life.
She was always a feminist. Her outrage at Quebec's Napoleonic laws (women couldn't sign contracts or sign for child care) lasted long after the laws died.
She had a criminal streak. I was drafted into a smuggling gang at a tender age; transporting underwear from New Yorks state to my bedroom. I remember she enjoyed the mischief.
She was, by her time and even our time, tolerant of ethnic and gender variations.
In middle age she devoured romance novels and loved books by Agatha Christie.
For many years she sold costume jewelry in house party settings. She seemed to like it, but was very happy to return to nursing in her 40s.
She learned to drive when she was in her 40s. She loved driving fast but tended to stomp on the brake -- all her life.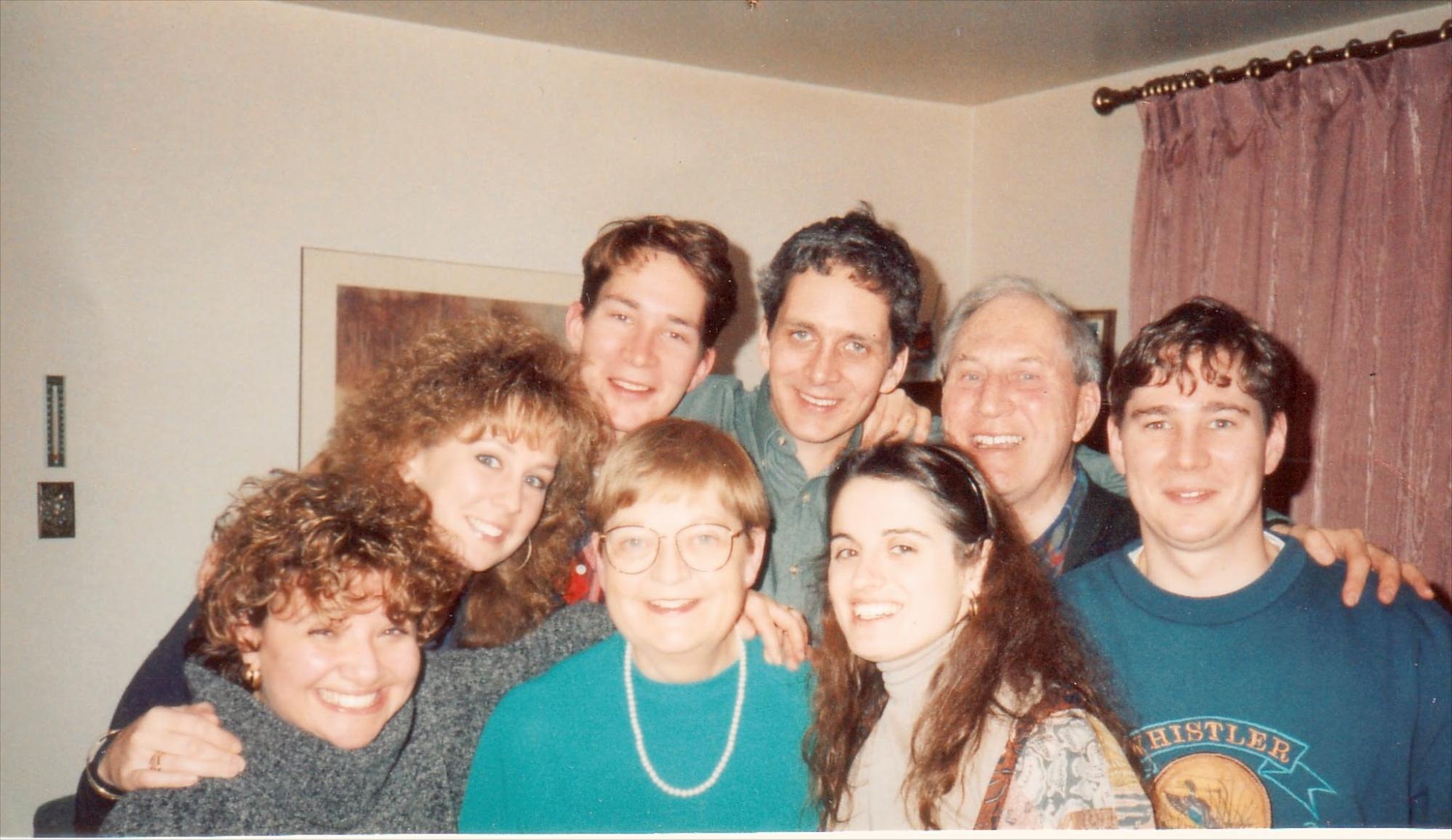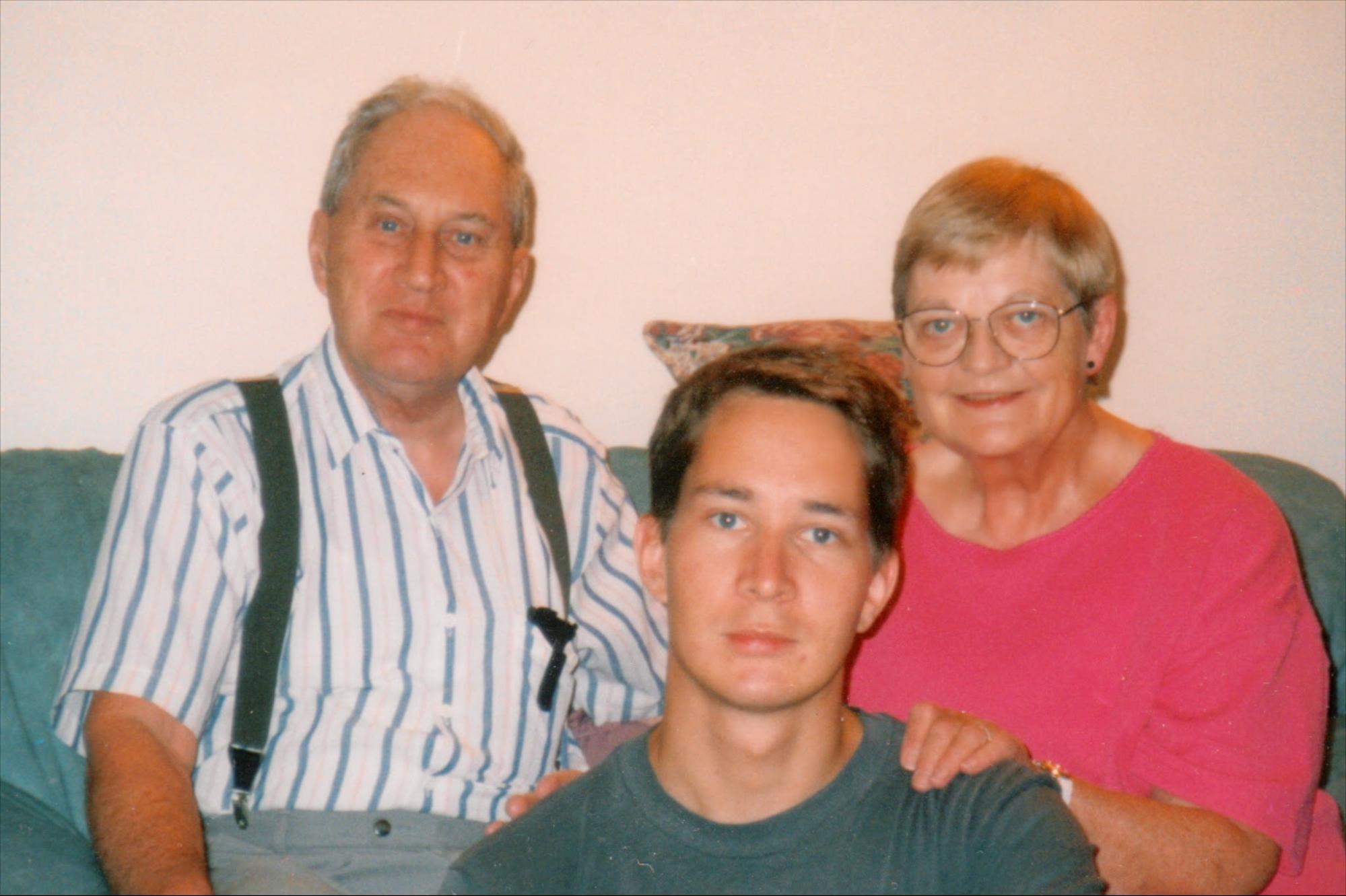 She enjoyed talking about philosophy, theology, culture, people, geography, and medicine. Most of all she liked hearing people's stories.
She loved teaching nurses and medical students and participating in ostomy care research. She would have made a good nursing school dean.
Things most everyone did know about my mother
She was willful.
And proud. Not least of the house she and my father purchased late in life…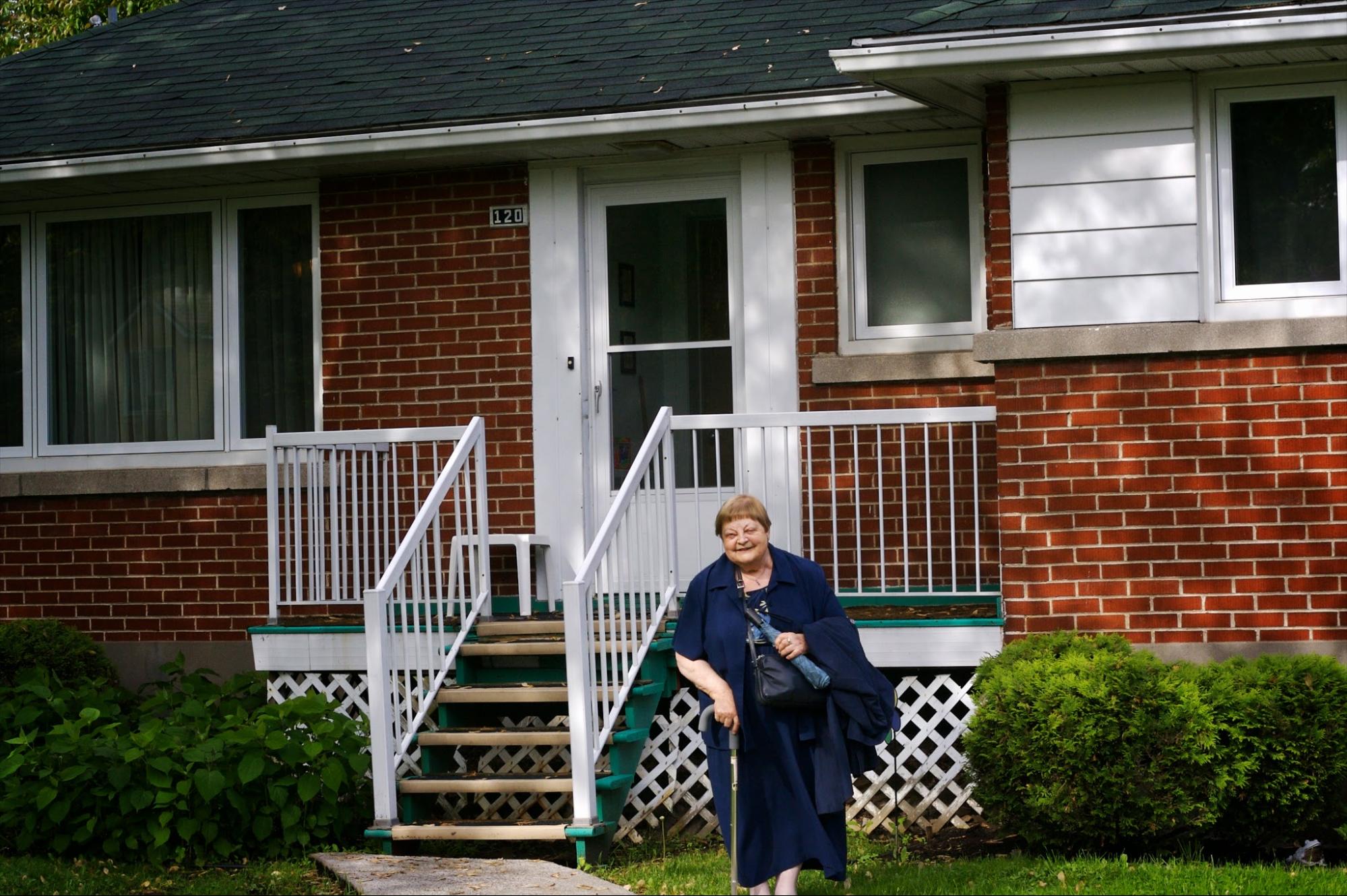 She was a terrific baker and dessert maker. She liked sweet things.
She was fond of hats, gloves and purses. She bought many of them in matching sets.
She was an avid reader. Which made macular degeneration particularly difficult.
She never strayed terribly far from English cuisine.
She loved caring for people in general, and nursing in particular.
She was always a religious Catholic, but more so after Brian was lost. One of her great regrets of later life was that she became physically unable to attend mass at St John Fisher church. Despite her own beliefs she tolerated the atheists and agnostics she lived with and appreciated a range of religious practices.
She was a terrific listener. This was easy for her as she loved collecting stories.
She always wanted to be useful. When all but her ears and voice failed her she became a counsellor.
She was remarkably cheerful for someone with a ridiculous number of painful and disabling medical conditions (this surprised me).
A surprise for Pauline (Cox) Hogan, as told by Paul Hogan (Sheila was @ 64)
My favourite memory is when my Dad, looking for inspiration, asked me what my Mum would like for her 60th Birthday. And I said she'd like nothing more than a surprise visit from Sheila.
Phone calls were made and planning began.
In due course I went to Manchester airport to pick up Sheila. We put her up for a night at our house and the next day delivered her wearing a sash to Mum and Dads house. I went in and told Mum that her present was outside... Mum went to the back door and I'm surprised you didn't hear the scream actually. Joan was there too and also had no idea Sheila was coming over. It was bloody marvellous! One of my favourite memories.
An appreciation from Claire Faughnan
My mother was such a kind, giving, caring person. She had enough room in her heart for everyone. She was empathetic, sympathetic, and comforting. She comforted many in the soft British voice that made you feel that someone really cared about you. She was also funny, mischievous -- and crafty.
She was a master planner whose mind was always looking forward to fruition. She loved her family and her church.
Her life became all about simple pleasures. Those around her, good tea, good food & empire cookies. She was surrounded by many friends, surrogate daughters, grand kids & knew she was loved greatly!
Notes from her grandchildren
Lauren
everytime I see a small porcelain frog I think of her …
Ben
She was always so generous to us. She always had gifts for us. She was always so cheerful - all the time.
Brinna
Fooood! Yummy!
Tim
Grandma let me use her electric reclining chair -- and her electric wheelchair.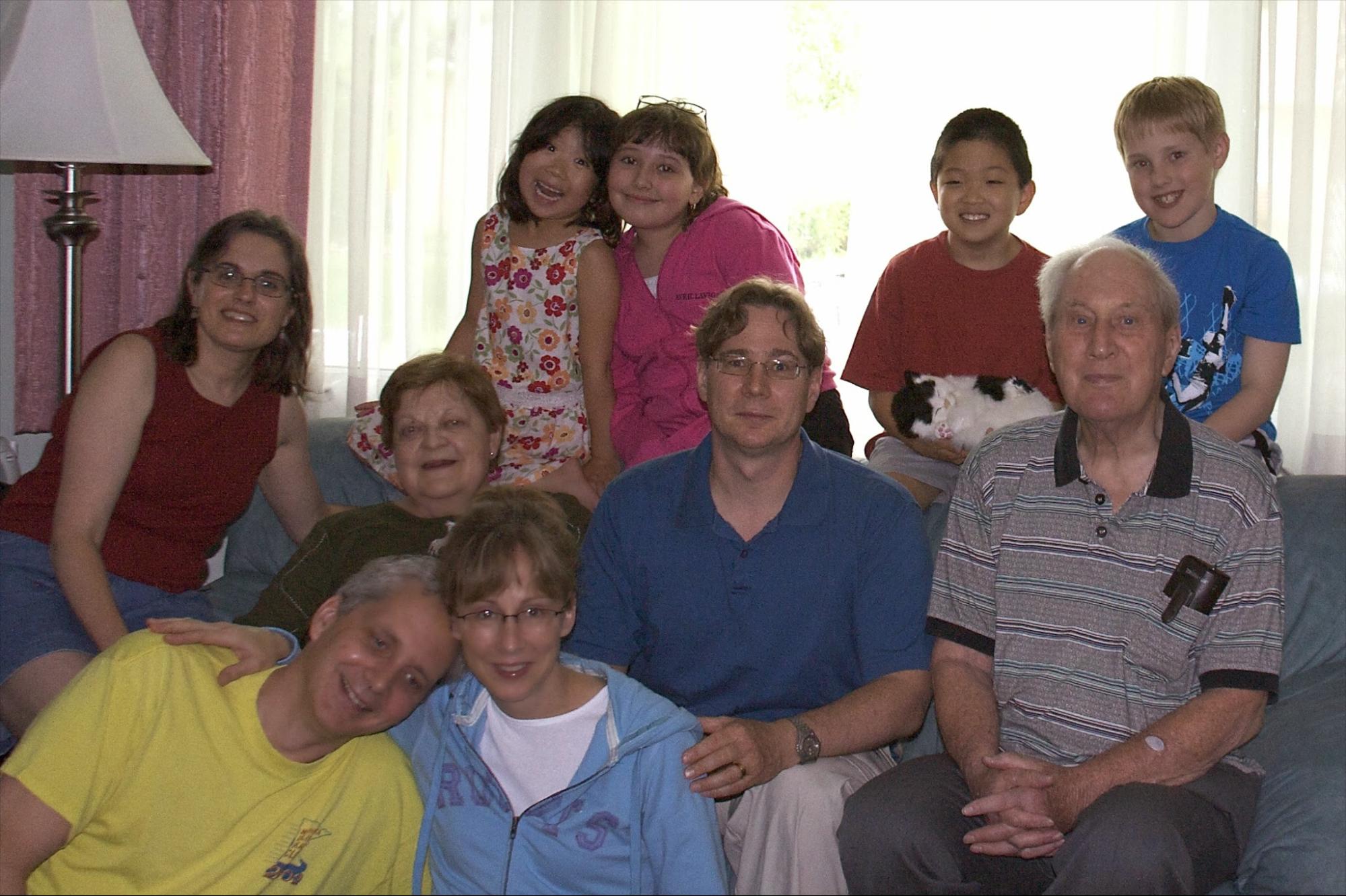 and love from Kevin and William…
An appreciation from Ruth Allan Rigby
I met Sheila at the Montreal General Hospital in the early 1980s when she began to work as a Specialty Skin Care and Ostomy Nurse.
Over the following years, we became good friends. Sheila would often recount her early experiences especially as an evacuee from Manchester to the country for over a year during the war. She also spoke of her early nursing years in the UK where she worked in disadvantaged neighbourhoods in Manchester and mining areas in Scotland. She came to admire the resilience of the people and their determination to improve their lives. This dedicated professional life was always balanced by fun times, parties and enjoyable activities. Sheila's nursing experiences fostered her empathy and her special abilities to help and reassure, making her a favourite among her patients.
She was a bright, intelligent woman who engaged in discussion on a wide range of topics with understanding and an authentic British sense of humour that she and I shared. Raising a family while working is a challenge and Sheila was dedicated to creating a happy home life, (if austere at times - ginger ale at Christmas!) She valued hard work and intellectual endeavour and was proud of her family's achievements.
In recent years, her family continued to give her much joy. Sheila was fascinated to hear of her grandchildren's activities and interests. Their lives helped distract Sheila from the great sorrow she suffered with the disappearance of Brian in 2002. Brinna, as a namesake, kept a strong connection to her grandmother.
Over the last few months, Sheila often mentioned to me how much she appreciated Claire's devotion and care and particularly appreciated the way she tended the garden, which had become too much for her parents. It was also a big relief to her when Frank settled at the Veteran's Hospital and could participate in activities impossible to him at their Windcrest home.
Her friendship has enriched my life in so many ways and I will treasure very many happy memories of remarkable women who brightened our life path together. She paid me the greatness compliment during a very recent visit that I was like a sister. A compliment I will hold with great affection.
Eulogy, John Faughnan
When I first met my mother she was 29. Young enough, today, to be my daughter.
Of course, back then, I wasn't paying too much attention. So there's much about her early life that I only learned later. Most recently I learned that, after her nurse-midwifery school and Scotland experience, she quickly became head of surgical nursing for a Manchester hospital.
That was when she turned West, sailed into the sunset, and started over in Montreal. First, and, as it happened, last stop on her world tour.
In those days there was badminton and tennis and, above all, dancing -- lots of big band dancing. I don't think she slept much.
Then, as you can read in the web page or see in the photos downstairs, life happened. Love and sorrow, good and ungood. She love the Theater of Living, performing before the Angels and the Saints.
She loved working, nursing best of all, but she had fun selling jewelry too. She loved her husband Frank, children, grandchildren, a dog named Napoleon, a cat named Mellow, and other children of Millar and Windcrest.
Also, baking and stories -- everyone's stories. She wanted to hear them, learned them, shared those that weren't confidential. I loved telling her stories of my own children.
Mom needed to be useful. When illness took her strength and vision she used words and wisdom, she became a counselor to all. She was by nature willful and proud, but she learned to accept help. Help that my sister Claire, and friends and aides, provided over many months of illness.
When we know someone who dies old, we at first remember then as they died. Then, slowly, we remember them across all the ages we knew them. Even so, one of my favorite pictures of my mother is from late in her life. She is in a wheelchair then, dressed in black, sitting by the water. She is fond of her photographer, archly amused, a bit impatient, regal, proud, strong of will. Ready to stay in the game, to carry on.
She did that.
Appreciation from Micheline Croze and Family
Sheila was the backbone of my family for many years.
There was a way about her to help find the positive and the strength to carry on through both good and bad times.
She was a mother, grand-mother, confidante, and a best friend, all in one to us, someone that was always there with open arms, open heart and ready to listen and guide.
Through the years she was for Kevin and William a "surrogate grandmother" a nurse, a massage therapist when soothing Kevin's back pain, greeting the boys with juice and cookies to the point where Richard had to replace the juice, as she ran out. She always had a story to tell them and would always listen to theirs.
We always looked forward to our outings and escapades, whether for an appointment or just sitting on a bench overlooking Lake St-Louis and enjoying the moment in the sunshine.
There was also those exciting shopping sprees at the Bay, Wal-Mart and Zellers, walking out with a car load of good stuff to last for the next little while.
Even with the less exciting outings for medical appointments, we always managed to get a good laugh, have fun and make the best of it.
She would call in to Richard when she suddenly would decide to go out on her own shopping spree, spur of the moment by herself and come home with home decorations that needed to be put together, or installed and would say to us "don't tell Mr. Faughnan". There was never a dull moment when visiting or talking on the phone.
We will miss her terribly and never forget the legacy she left behind and gave us through the years.
The world would be a better place if there were more Sheilas in it.
From Kevin Haddad
Ms faughnan was an amazing friend and supporter of me for many years. What started out as going to her place after school for cookies and juice once in a while to a weekly tradition. During my visits I would always have amazing conversations with her and listen to her incredible stories as well as occasionally help Mr Faughnan feed the squirrels.
Going to see her was always something uplifting and amazing as no matter what happened before going to see her was always the highlight of my day and always made me feel better. From those points on my fondness and love for her kept growing as even when I stopped going there for treats I would still go to speak to her and keep her company as well as help her when she needed it.
More recently I used to bring my little chihuahua Cindy with me to visit her, she used to love seeing Cindy as the moment she held Cindy she would be a subject to lots of licks from her and after that Cindy would just fall asleep on her lap and not want to leave her side. Our next few meetings after that would sadly be our last together but despite that I tried to make the most of the time we had together.
Overall our time together was always something sacred and special and I will never forget our time together as she was always a good listener and the most kind and caring person i know.
From William Haddad
Sheila was an amazing person who always cared and loved everybody throughout her whole life. She will always be remembered for her constant smile and happiness. I will always remember when i used to go visit her and how she always had a smile on her face.